Custom Wear
Score Big with Custom Soccer Kits: Unveiling the Ultimate Soccer Wear Experience
by Kevin Frank on Aug 26, 2023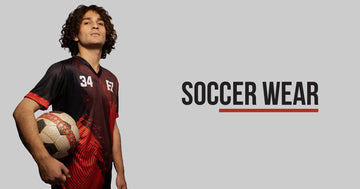 Calling all soccer enthusiasts and athletes! Are you ready to kick your soccer game up a notch with personalized style and comfort? Look no further than EZ XPORTS, where we bring your soccer dreams to life through our range of top-notch custom soccer shirts and kits. Whether you're looking for a unique soccer jersey, a personalized soccer kit, or a high-performance soccer training shirt, we've got you covered. Get ready to dominate the field with our sublimated soccer jerseys that combine style, comfort, and performance like never before.
Elevate Your Team Spirit with Custom Soccer Jerseys
Bring your team together with custom soccer jerseys that display your team's identity like never before. Our innovative customization options ensure that your team's colors, logos, and names shine brightly on the field, boosting team unity and morale.
Unleash Your Creativity with Personalized Soccer Jerseys
Stand out from the crowd with personalized soccer jerseys that feature your name, number, and unique designs. Express your soccer style and make a lasting impression both on and off the field.
Craft Your Own Soccer Kit
Why settle for a standard soccer kit when you can create your own? Design every aspect of your kit, from the jersey to the shorts, to reflect your individuality and personal preferences.
Optimal Comfort with Soccer Training Shirts
Ace your training sessions with our premium soccer training shirts. Engineered with advanced moisture-wicking technology, these shirts keep you dry and comfortable even during the most intense drills.
Unmatched Performance with Sublimated Soccer Jerseys
Experience the next level of performance with our sublimated soccer jerseys. These jerseys are designed to stay vibrant and durable, no matter how intense the game gets, making sure you're always at the top of your game.
Your One-Stop Soccer Shop
At EZ XPORTS, we're not just about soccer jerseys – we're your ultimate sports shop. From soccer equipment to accessories, we've got everything you need to complete your soccer experience.
Ready to take your soccer journey to new heights? With our range of custom soccer shirts and kits, you'll be equipped with the best in soccer wear technology, style, and personalization. Don't wait – explore our online store today and make every match a showcase of your unique soccer spirit.
When it comes to custom soccer shirts, custom jerseys, and all things soccer wear, EZ XPORTS stands out as your go-to destination. Join the ranks of satisfied athletes who have experienced the pinnacle of personalized soccer gear. Your dream soccer wear is just a click away!