Custom Wear
Unleash Your Cricket Passion: Step up Your Game with Custom Cricket Uniforms
by Kevin Frank on Aug 27, 2023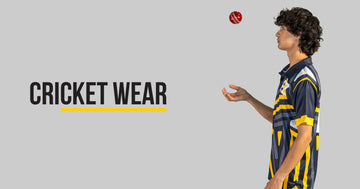 Cricket isn't just a sport; it's a way of life for enthusiasts who take pride in their performance and appearance on the field. If you're in search of the perfect cricket uniform that combines comfort, style, and individuality, look no further than EZ XPORTS. As your trusted destination for premium custom cricket uniforms, we're here to ensure you're fully geared up for success. Let's explore the world of custom cricket apparels and discover how you can make a lasting impression both on and off the pitch.
Cricket Uniforms that Echo Your Team Spirit
At EZ XPORTS, we understand the significance of team unity. Our cricket uniforms serve as a canvas for you to showcase your team's colors, logos, and identity, fostering a sense of camaraderie among players.
Custom Cricket Jerseys that Speak Your Language
Leave your mark with custom cricket jerseys that feature your name, number, and personalized design. Every jersey is a representation of your unique style and love for the game.
Craft Your Own Cricket Shirt
Why settle for standard cricket shirts when you can design your own? With our user-friendly customization options, you can create a custom cricket shirt that encapsulates your passion and preferences.
White Cricket Uniforms for Classic Elegance
For traditionalists, our cricket white uniforms pay homage to the sport's classic aesthetics. Immerse yourself in the spirit of the game with our pristine white cricket uniforms that radiate elegance and grace.
Embrace the Power of Custom Cricket Uniforms
Customization isn't just about aesthetics – it's about empowerment. Our custom cricket uniforms are tailored for performance, ensuring you have the freedom to move confidently and play your best.
Elevate Team Morale with Personalized Unity
A well-dressed team is a confident team. Enhance team morale and cohesion with cricket uniforms that exude pride and professionalism, setting the stage for a winning mindset.
Beyond the Boundary: Custom Cricket Jerseys for Fans
Our offerings extend beyond the players – fans can also wear their passion with pride. Rock a custom cricket jersey during matches, practice sessions, or even when catching up with fellow cricket aficionados.
Are you ready to redefine your cricket experience? Discover the realm of custom cricket uniforms and jerseys at EZ XPORTS. We're your ultimate source for cricket gear that seamlessly blends style and substance. Embrace the power of customized cricket wear and step onto the field with the confidence of a true cricket enthusiast. Explore our online store today and embark on a journey of cricket excellence.
When it comes to cricket uniforms, custom cricket shirts, and personalized jerseys, EZ XPORTS stands out as the frontrunner, providing unparalleled quality and customization. Join the ranks of satisfied cricketers who've already experienced the joy of tailor-made cricket apparel. Your path to cricket greatness begins here!